As one of the best surgeons in the United States, Dr. Garth Fisher has grown his practice to include individuals from all walks of life and from all different backgrounds. From entertainment industry professionals to boardroom executives, he is among Beverly Hills' top choices for cosmetic transformation. He possesses over two decades of expertise and is certified by the American Board of Plastic Surgery. Showcased in the hit TV program "Extreme Makeover", he has gained the opportunity to reach thousands of viewers both domestically and internationally and communicate to them his vision of this aesthetic improvement and well-being. As such, he has helped to elevate the standard of care for cosmetic surgery clients on a worldwide basis. He is also a frequent contributor on the lecture circuit and to peer-reviewed industry journals, providing education and knowledge to the plastic surgery community at large.
Dr. Fisher's specialization lies with perfecting the facial features such as the nose, eyes, mouth and ears, yet he has also mastered the human body, including the breasts, hips and abdomen. With results that are seamlessly natural and sophisticated, Dr. Fisher is regarded as among the best plastic surgeons in California and beyond.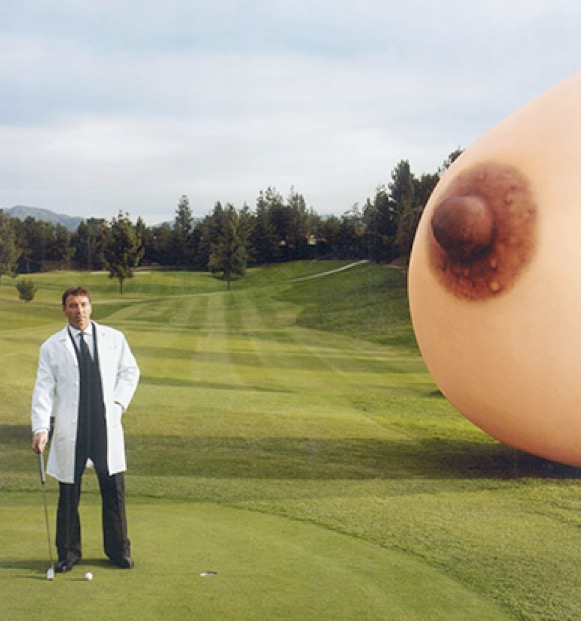 Garth Fisher, M.D.™, was featured in Vanity Fair's "Tom Ford's Hollywood" Special Edition issue & deemed "The Enhancer" for his notoriety as the top breast surgeon in Hollywood.
---
A life in the public eye
For over 10 years, Dr. Fisher has been listed in Best Doctors in America as among the best cosmetic surgeons in the US for facial and breast procedures. This publication is renowned for its choice selections in each surgical specialization, and the doctor is honored to be one of its main suggested surgeons. Castle Connolly has also featured Dr. Fisher as among "America's Foremost Surgeons", a prestigious distinction relegated to only a small fraction of US doctors. Dr. Fischer has been highlighted by Los Angeles Magazine as one of the best plastic surgeons in Los Angeles, as determined by his colleagues and patients. Town & Country magazine also rated Dr. Fisher as among the top providers for one of the best facelifts in America. For his consummate skill and continuous dedication to the art and science of plastic surgery, Dr. Fisher was recently knighted in 2014, making him one of the only surgeons to go by the title of "Sir."
Talk show host Larry King created a moving assortment of stories called, "My Dad and Me: A Heartwarming Collection of Stories About Fathers from a Host of Larry's Famous Friends" and chose Dr. Fisher to make a contribution to this volume. From only a small selection of 120 close friends, Larry King made a point of including Dr. Fisher for his keen insights, philanthropy, and his impact on the world. His memorable portrait of his own father and the institution of mentoring can be found in Larry King's publication.

The Biomed Spa
Erected in 2010, the Biomed Spa of Beverly Hills offers innovative, compassionate and outstanding patient care in a tranquil setting that facilitates rapid renewal and recovery. Cutting-edge skincare techniques are paired with next level body sculpting frontiers, designed to revitalize your appearance and maximize your health benefits. Our stylish and beautiful med spa in Beverly Hills is outfitted with advanced laser technology, ultrasound devices and radiofrequency therapy, as well as many other groundbreaking instruments and equipment. Dr. Fisher provides the full spectrum of dermal fillers and injectables which complement his surgical work and help to reduce and counteract the inevitable signs of aging. In an effort to treat all aspects of wellness, the Biomed Spa also provides hormone replacement therapy, vitamin therapy, and nutritional counseling.
---
The value of knowledge
As part of his commitment to furthering worldwide knowledge and experience in the field of plastic surgery, Dr. Fisher is dedicated to pursuing excellence on the lecture circuit. He is frequently called upon to speak to an international audience on groundbreaking surgical topics, and to support his fellow physicians in an effort to maintain outstanding care on a sustainable basis. Dr. Fisher's practice has come to serve as a model for surgeons all over the world who wish to improve their skills and develop their artistic vision.
---
A revolution in skincare
In 2008, Dr. Fisher developed the innovative Biomedical Skin Treatment Institute, and R&D center where age-defying technology could be tested and improved. This facility makes it a top priority to seek out skincare products that provide transcendent results with sustainable outcomes, setting in motion a skincare revolution. Dr. Fisher's approach is ideal for those patients combating facial scarring, aging, and undernourished skin. He offers a wide array of cutting-edge techniques including laser therapy, chemical peels, radiofrequency treatments, as well as ultrasound procedures. As a testament to his ideal of radiant and continuously beautiful skin, Dr. Fisher has developed a line of personal skincare products that are meticulously tested and tracked for quality and effectiveness. Dr. Fisher plans to release a newer line of skincare solutions that are even more evolved to address today's busy stressful lifestyle.
"Perfection—the art of precision and meticulous follow through, a mental state." Dr. Garth Fisher